Live With Honor. Fight COVID-19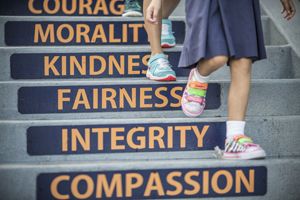 There are no degrees of Honor. You either have it or you don't. You either act honorably in times of COVID-19 or you don't have on-campus classes. For almost nine weeks, we were able to have at school, in-person learning without a single reported positive COVID case. On Tuesday, Oct. 27, 2020 that changed.
Our Honor Code serves to create a community of trust. When the School has to effect a series of new rules focusing on social distancing and wearing masks, the move suggests we have failed the Honor Code. If we were acting honorably, our individual decisions would always reflect an understanding and valuing of our larger community.
It is the responsibility of every member of the Benjamin community to do what is best for the community and not just him or herself. Responsibly limit gatherings outside of school. Diligently wear your masks. Consistently adhere to the Honor Code while Zooming. The only way campus remains open is by our working together.
Being part of our community is a privilege, not a right. We need to value the opportunity by taking pride in what we built. Recent actions haven't simply undercut nine weeks of good behavior, but rather a 60 year tradition of Benjamin being our safe, compassionate, and welcoming home.
The School cannot and should not control how we act or what we do outside of school hours, we can and should. The responsibility for fostering the Benjamin spirit rests on each of us being mindful of our behaviors. The blame for an outbreak does not just fall on the host of socially irresponsible gatherings; it falls on everyone. We chose to attend. We chose to ignore the county guidelines. We chose a few hours of fun over a lifetime of better health.
We cannot fight the virus alone, we must do so together. Our Honor Code requires us not just to report our own positive cases to Nurse Mary Beth Donaldson, but also to honorably act in a way that makes such instances rare. A student cannot willingly choose to put him or herself in danger of contracting the virus because that decision affects us all. This is why we have an Honor Code; it reminds us that we are always a part of something bigger than ourselves.
It is honorable to wear a mask. Doing so protects others. According to the CDC, "Researchers predicted that 80 percent of the population wearing masks would do more to reduce COVID-19 spread than a strict lockdown." The School requires everyone to wear a mask, but it is difficult to regulate all the students. It is important to wear the mask properly, over your nose, because it is more protective to others who are exposed to you. The safety of others depends on your willingness to be a little uncomfortable. When you see someone not properly covering his or her face, the Honor Code demands that you say something; failing to speak up puts us all at risk.
Of course, the Honor Code must be followed in regards to our academics as well. When a remote learner takes the opportunity to look up an answer or use his or her notes on a quiz or test, that decision affects the entire community. The cheater is advantaged, other students' effort is potentially skewed, and teachers struggle to assess the effectiveness of their instruction. A few unearned points provide only temporary solace from long-term ignorance. Cheating is a direct assault on our community.
Before the pandemic, it was easy to limit our understanding of the Honor Code and its influence to the space protected by the white fences of our campus. COVID-19 has changed this. Our Honor Code impacts those who are closest to us off-campus as well. Our parents are kept safe by our honorable decisions. Those who are essential workers, doctors, teachers, and service workers are able to do their job when we do not bring home the virus. People who depend on those essential workers need them to be able to do their jobs. As Mr. Carr stated in his recent Buclines commentary, "It has been clear […] that there have been choices made recently, at the individual, family, and peer levels, that have contributed to the uptick in COVID and quarantine numbers at the Upper School. The consequences of these choices range from the rather trivial, such as missing out on a Halloween party, to the far-reaching, such as student-athletes–through no fault of their own–being forced to miss state-level, end-of-season events; families with at-risk parents and grandparents being forced to dig ever deeper into resources to protect elderly loved ones; and Upper School students, who rely on their own paychecks, forced to forego the work that helps to pay for their education at Benjamin." Honor means seeing yourself in others. We are our School and our School is our World.
We have to step up. We have to take responsibility. We have to live with Honor. If we don't, we might not have anything, any place, anyone to live for.
Leave a Comment