The Goalie with High Hopes: Junior Standout Draws Attention
Throughout her high school career, junior soccer-star Logan McGruder has stood out because of her dedication to the sport; however, the story behind her success, motivations, and her future plans are less well known. 
McGruder got her start in soccer at an early age.
"I first started playing soccer on a team when I was 5 years old. The first experience that I remember is playing against another team in rec. soccer and my coach telling me to go in goal for a few minutes because the real goalkeeper was hurt. So I went in and I absolutely fell in love with playing goalkeeper," she said. 
As she fell in love with soccer, McGruder's motivation to play only grew. 
"What motivates me is where I ultimately want to be in the soccer world–I want to be on the US Women's National Soccer team. I train in Pennsylvania a lot at The Keeper Institute. [There,] I see what it takes to be the best. It is a lot of hard work, but I know that one day it will be worth it," she stated. 
The Keeper Institute (TKI) is owned and operated by Maria Loyden and her wife Jillian, a retired United States women's national soccer team player. Elite junior soccer goalies, like McGruder, travel from around the country to train there.
However, she only visits TKI when it doesn't interfere with her schedule, so that she can effectively balance her schoolwork and soccer. "I mostly go up there when [I] have 3 day weekends and I don't have games for my travel team. I will usually miss a little bit of [school on] Friday and then train when I get there [that day]. Then [I'll train] two times on Saturday and two times on Sunday," she noted.
Today, she maintains an elite level of play and, when she isn't in school or at TKI, frequently plays with her travel team.
"I currently play for Sunrise Prime FC in Fort Lauderdale… I train in Fort Lauderdale, Miami, and Davie almost every day of the week. [This] usually takes up 5-6 hours of my day. On Fridays, I train at Bamford Sports Complex with my goalkeeper coach Giuseppe Weller. [I] travel almost every weekend to play against other teams mostly in Georgia and Alabama, but most of [my] tournaments are in California, Virginia, North Carolina and so many other places," she noted.
This extensive travel to the Miami area, TKI, and around the country makes it difficult for McGruder to stay on top of her schoolwork, despite her best efforts. "Schoolwork is a struggle. That's the main reason why I'm [not in] the higher level classes; it would be so hard to juggle. [Regardless,] I do most of my work in study hall, quickly after school, or before school," she said.
Mrs. Suzanne McCambridge, Logan's advisor, praises her for her drive. "Logan's commitment is outstanding. She continues to achieve on the soccer field and in her academics simultaneously and has been able to continue in this way successfully with only minor shifts to her class schedule. I am so impressed!," McCambridge said. 
Despite her already massive workload, McGruder is also the starting goalkeeper for the School's girl's soccer team. 
Commenting on the soccer-standout's high level of play, Benjamin soccer coach Hillary Carney said, "Logan is one of the hardest working players I have ever [met]. She is always training and pushing herself to the next level. She [also] has very high goals, and has the work [ethic] to achieve those goals."
Sophomore Cameryn Grissman, who plays on McGruder's School and travel teams, echoed Coach Carney's thoughts. "Logan is a great team player and is always there for others on the field. She helps others stay strong during all games. The best thing about Logan is that she is always trying her best in the goal and never gives up," Grissman said. 
The junior's hard work, both on Benjamin's and her out-of-school team, has resulted in numerous athletic accomplishments.
"I [participated in] the Olympic Development Program for four years, and I made the regional and national team. From there, I was invited to Id2, which is when the best 60 girl soccer players in the country are invited to play [together]. Currently, I am ranked the third best goalkeeper in the country and the best in the state of Florida," she stated. 
McGruder clarified that the ranking system isn't as official or as public as one might think. Instead, she is evaluated every so often by different coaches who come to watch her play. They then assign her a rank in comparison to goalkeepers of the same sex and age.
This subjective and relatively secretive system means that McGruder's rank can fluctuate without her knowledge. It also means that she isn't always aware of who is ahead of her. For example, McGruder is only aware of one girl, a Pennsylvania goalie named Mack Gress, who is ranked higher than her. But there could be others she is unaware of. 
Not surprisingly, McGruder has big plans for the future. 
"For the rest of my high school career I will continue to play for Sunrise Prime FC and the school team. Then, hopefully during my high school career, I get [called up to the National Team]. After high school, I want to play in college and hopefully go into playing professionally for a NWSL (National Women's Soccer League) team, the USWNT (United States Women's National Team), or even play internationally. 
Regardless of her future plans, McGruder's long list of accomplishments has allowed her to provide helpful advice to girls looking to follow in her footsteps.
"People need to understand that the process is much harder than it looks. You have to put in work when nobody is watching. Don't just play and train with a team and expect to get better. If you're interested in doing well in soccer, you need to be strong mentally and okay with failure: it only makes you better," she concluded.
Leave a Comment
About the Contributor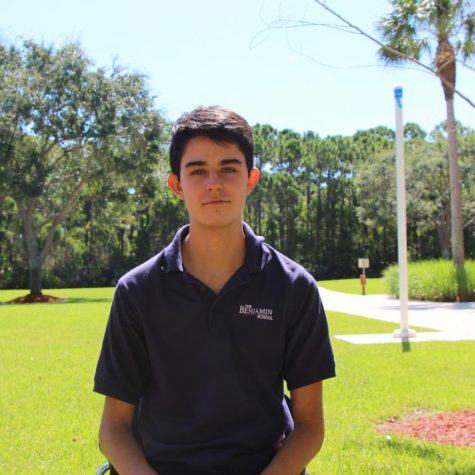 Evan Liberman, Managing Editor
Evan is a senior and in his third year at The Pharcyde. He serves as Managing Editor of the newspaper and is President of the affiliated writing club....