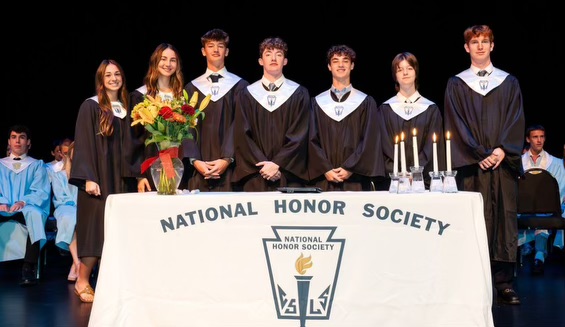 On Thurs. Oct 5, six outstanding seniors were inducted into the Benjamin School's chapter of the National Honor Society.
In order to receive an application form from the National Honor Society, one must have a cumulative GPA of 3.8 or higher. National Honor Society advisor, Ms. Sara Misselhorn, coordinates the process to select inductees each semester.  
"Students are evaluated in regards to each pillar of NHS – character, scholarship, service and leadership. Applicants must submit an informational packet for the five member Faculty Council to read, they then are interviewed by two NHS officers, and Upper School teachers and coaches submit input on behalf of the students they know.  The NHS Faculty Council makes its selections based upon all of these factors," Misselhorn explained. 
To begin this fall's induction ceremony, Head of School Mr. David Faus addressed the students, faculty, and parents emphasizing the significance of the Society and the achievement of induction. He then handed the microphone off to Head of Upper School Mr. Fletcher Carr who gave a brief history about the society and spoke about the importance of recognizing academic accomplishments. 
"The National Honor Society is a very unique organization because it truly celebrates people for both their academics and also their service and leadership for their community. It is a great way to acknowledge people who are strong role models and those who try to do the right thing every day," Carr said.  
Following Carr's speech, chapter president, senior Matias Saiz, and other officers of the National Honor Society offered brief biographies of the inductees, outlining the honorees' accomplishments and successes. 
Senior Jacob Heilpern, one of these inductees, was honored to become a member of this prestigious society and proud to be recognized for his hard work. 
"I have been trying to get into NHS for a while, but was never able to qualify for the GPA requirement. It was such a relief to finally be accepted; it really showed me to ever give up on anything I put my mind to,'' Heilpurn expressed. 
Another inductee senior Cameron Bitove was excited as well, feeling that her induction was not only a result of her achievements in her academics but also from the support she has received from others. 
"It's truly an honor to be part of the society and I am looking forward to the year ahead as part of NHS. I am so grateful for the support system I have with my family and friends. They were all super-encouraging and inspiring toward getting me to where I needed to be," Bitove said.  
To conclude the ceremony, all National Honor Society members stood holding candles to recite the Society's pledge in unison. 
The National Honors Society Pledge is as follows. "I pledge myself to uphold The high purposes of the National Honor Society To which I have been selected; I will be true to the principle for which it stands; I will be loyal to my school; And will maintain and encourage High standards of scholarship, service, leadership and character."
It's clear that the National Honor Society is not only a highly regarded organization but, more importantly, that its members are dedicated to its mission. 
"What sets NHS apart is the people in it. The group as a whole is very driven and everyone wants to improve the school, community, and themselves. Everyone truly embodies the four pillars and always works very hard," said Vice President Andrew Lappin.