School Announces Hiring of Amy Jablonski, New Director of Enrollment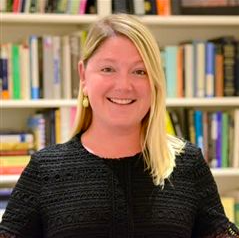 On Mar. 12, the School announced the hiring of Mrs. Amy Jablonski as Benjamin's new Director of Enrollment.
Jablonski currently works at The Hewitt School, an all-girls K-12 school, and has been doing admissions and enrollment work for 15 years. Prior to her 9 years at The Hewitt School, she worked at Blair Academy in New Jersey, an all-girls boarding school.
"At Blair Academy, which is my alma mater, I was working in admission and helping to run a girls dorm for junior and senior girls. I also coached field hockey and lacrosse," Jablonski said.
One of her favorite aspects of working in schools is being able to interact with the students and the community as a whole.
She explains, "It's so much fun to enroll a kindergarten class and then 5 years later, as they are on the brinks of middle school, really have an understanding of who they are, what kind of impact they had on the school and what impact the School had on them. I think it is just so rewarding."
Jablonski also enjoys being a part of the School environment with educators who are inspired to make a difference.
"I love working in schools. I love the buzz of school and working with people who are so committed to young people whether they are 5 years old or a senior looking ahead to their future. I think it takes special people to be inspired to work in education and I love surrounding myself with those kinds of people," she said.
 "I also love thinking about what schools can do for bright young students and thinking about the fit of students at a particular school so the idea of shaping out a class is so exciting," she added.
When Jablonski and her husband first considered moving to Florida, Jablonski got to know the landscape of all the schools in the area, and immediately realized that Benjamin was the perfect place for her.
"It was clear that Benjamin was the only school I was interested in working at. I was really inspired by the mission, really inspired by the physical campus space and even just the short amount of time I spent on campus listening to the buzz of students and getting to know the Head of School and the Search Committee solidified the fact that Benjamin was the right school for me at the right time," she explained.
As she will be starting at Benjamin on Jul. 1, her main focus in the beginning will be to listen, observe, and understand Benjamin's way of thinking.
"I think I can make a great impact at Benmain and I am really inspired by the people I got to meet in the process. I can't wait to start at Benjamin. It's a really special place," she said.
The School community is looking forward to welcoming Jablonski this summer, and AHead of Upper School, Mr. Fletcher Carr, knows that she will be a great fit for this position.
"We will love to welcome Mrs. Jablonski as a result of the experience she brings particularly from a highly competitive school in New York City where the process and pressure of admissions is significant. I think her skills in that area will make a positive difference in our admission process at Benjamin," he said.