Hurricane Ida Strikes Louisiana, Alumni Impacted
Hurricane Ida barreled into the Louisiana coast as a Category 4 hurricane, causing about 18 billion dollars in damage. 
On Sunday, Aug. 29, Category 4 Hurricane Ida made landfall on the Southeastern Louisiana coast, ravaging areas such as New Orleans and Grand Isle.
Ben Lesserson, a Benjamin graduate, attends the University of Tulane in New Orleans. He decided to evacuate, but still made preparations to make sure his house would stay intact.
"I put sandbags in front of the doors and moved valuables from downstairs to the upstairs in case my house flooded. I went to Memphis to evacuate with a group of friends, but when Tulane closed its campus for two weeks, we all flew home," says Lesserson.
Ida formed on the morning of Aug. 26, leaving little time for people to decide to stay or evacuate. Lesserson was also faced with this tough decision.
"It was a little difficult to make the decision to leave. It happened really quickly, so we didn't have much time to pack, prepare our houses, and decide what our evacuation plan was. The hardest part was that we were all looking forward to a normal semester with in person classes," says Lesserson.
Ida made landfall precisely 16 years after Hurricane Katrina, one of the most deadly hurricanes on record, made landfall in Louisiana. New Orleans was better prepared for Ida than it was for Katrina, but not enough to minimize the effects of a Category 4 hurricane.
Lesserson, like everyone else that lives in New Orleans, was scared of what would be left in the path of the storm. Looking around, almost a month later, he sees things starting to improve.
"I was really concerned about the aftermath of the storm, especially when Tulane decided to close its campus. However, I am back in New Orleans now, and the city is mostly cleaned up and power is restored. Overall, I'd say Tulane and New Orleans proper are recovering well from the storm," says Ben.
Crystal Devine, another Benjamin graduate, attends Loyola University of New Orleans. She also evacuated for the storm, but she made sure she had provisions before she left.
"To prepare for the storm, I went shopping for water, non-perishable food, and lots of batteries. I ended up evacuating to Texas and then came home to Florida. It was hard to leave because it was hard to separate from my friends. I was absorbed into a community of great people very quickly," says Devine.
Compared to other hurricane experiences she's had in Florida, Devine thinks that they are very different from those of Louisiana.
"This hurricane experience was definitely different. I've never had to evacuate for a storm because, in Florida, we are not below sea level like New Orleans is," says Devine.
Luckily, Devine's school did not sustain any catastrophic damage, but the suburbs around her were not as fortunate.
"There is no significant damage to my school. However, the surrounding suburbs have significant damage, and it is hard to see others struggle. My school has gathered together neighboring charities to do service repairs on houses," says Devine.
Hopefully, the state of Louisiana will fully recover from the aftermath of Hurricane Ida. This also serves as a message to take hurricanes seriously and to make sure people are prepared.
Leave a Comment
About the Contributor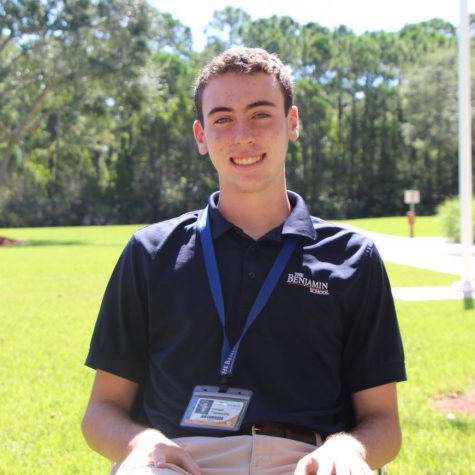 Joey Tomassetti, Managing Editor
Joey is a junior and is going into his second year in the Pharcyde. He is the Managing Editor of the paper. In his free time, he enjoys playing basketball,...