Phar Foods- Whoopie Pies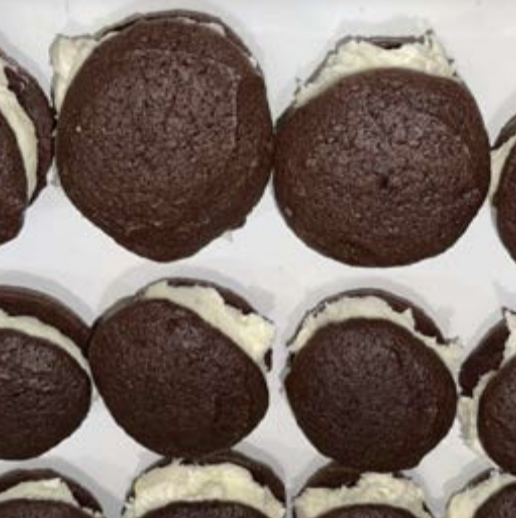 Ingredients
4 ounces of bittersweet chocolate, chopped

3 sticks butter, room temperature

1 cup flour

½ cup cocoa powder

½ teaspoon baking powder

½ cup light brown sugar

½ cup granulated sugar

1 teaspoon vanilla extract

¼ teaspoon salt

2 eggs, at room temperature

¼ cup plain yogurt

3 cups confectioner's sugar
Directions
Preheat the oven to 375 degrees F and line 2 baking sheets with parchment paper.

Melt the chocolate and 1 stick of butter over medium heat in a double boiler. Remove from heat and set aside to cool slightly.

In a medium bowl, whisk together the flour, cocoa powder, and baking powder. Ser aside.

To the bowl with the melted chocolate, add the brown sugar, granulated sugar, vanilla, and salt. Whisk to combine. Whisk in the eggs, one at a time, followed by the yogurt. Using a rubber spatula, fold in the flour mixture being careful to avoid overmixing.

Scoop 1-tablespoon mounds of the batter on the prepared baking sheets, leaving about 1 inch between each cookie. Bake the cookies for about 9 minutes. Slide the cookies onto the parchment onto a cooling rack and cool completely. 

Meanwhile, make the filling. In a medium bowl, using an electric hand mixer, beat the remaining two sticks of butter and the confectioner's sugar; mix until light and fluffy, starting on low speed to avoid splatter and work up to medium speed. Add the vanilla extract and salt and beat on medium speed.

Spread the filling on the flat side of half of the cookies. Top with the remaining cookies. Store in an airtight container until ready to serve.
Leave a Comment