Supply Chain Problems Persist Post Pandemic

In recent months, the media has been filled with stories of labor shortages, supply chain malfunctions, and business closings. And, though these issues seem distant, in reality, they are much closer than we think, affecting members of the Benjamin community in several ways.
To better understand the impacts of these issues, it's imperative to understand what they are and how they originated.
Economic Issues teacher and boys' lacrosse Head Coach Mr. Peter Cordrey explained the supply chain as a series of connected links.
"A chain is made of links; when one links fails, they all fail. If a microprocessor chip factory in Xian, a city of 13 million in China, is closed because of a lockdown, then you will have trouble completing the building of a new car. You can't complete the manufacturing, but you have to do something with all the incomplete cars piling up. It creates a log jam," he noted.  Moreover, he stated that a labor shortage is simply when there are not enough workers to meet the demands of firms.
However, these issues are not one-dimensional and can be influenced by outside political factors. For instance, Mr. Cordrey attributes both the supply chain malfunctions and labor force issues to the ongoing COVID-19 pandemic.
"[The supply chain issue] is a consequence of lockdown policy. China, besides exporting the lab-made Coronavirus, exports vast quantities of goods to the US," Cordrey said. "The flip side is that the U.S. now imports from China many critical components that are needed for making products and also imports many finished goods. As a consequence, the U.S. will suffer from China's policy to lock down, even when the U.S. decides not to," he added.
In addition to affecting the U.S. and other counties around the world, the metaphorical log jam that Mr. Cordrey referred to has reached the south Florida area and has had impacts on members of the Benjamin community.
For example, Mathematics Department Chair Mr. Mike Ruggie is seeing the effects at his local supermarket.
"I have seen a huge shortage at Publix. I'm not used to seeing shelves empty in every aisle, seeing the meat counter only half full, [and] not finding the things I normally buy. The shipping and supply chain has hit the food industry hard," Mr. Ruggie told The Pharcyde. He added that likely due to labor shortages and supply issues, certain menu items at restaurants he frequents are no longer available.
Like Mr. Ruggie, junior Ingrid Corpus has also witnessed the effects of the labor shortage and supply chain disruptions.
"There is a new gas station in Jupiter that has been completed for months but has yet to open due to a lack of employees. Also, I have seen many restaurants struggling to keep up with demands as a result of staffing issues, and those who are working have had to take on added responsibilities," Corpus stated. She also noted that certain foods, mainly granola bars and yogurt, are no longer available at her local grocery store. Moreover, some of these items are not being restocked, leaving some shelves permanently empty.
Other Benjamin students, such as freshman Vanessa Zito, have begun to modify their expectations in the wake of such issues.
"I've had to adjust the time that I think it'll take me at a restaurant… If I plan[ned] to leave [for] a restaurant at 7:00 pre-pandemic, I've adjusted to at least an hour later," Zito explained. "I've learned to be more patient with people because it's hard to know the background of a place [or] restaurant's status with workers and numbers," she added.
Although these problems continue to interrupt the daily lives of Benjamin students and faculty, according to Mr. Cordrey, they will eventually be corrected through capitalism, which "through its use of free markets, permits the efficient allocation of resources. Eventually, things will normalize as long as people have the freedom to make decisions and to act on those decisions."
Leave a Comment
About the Contributor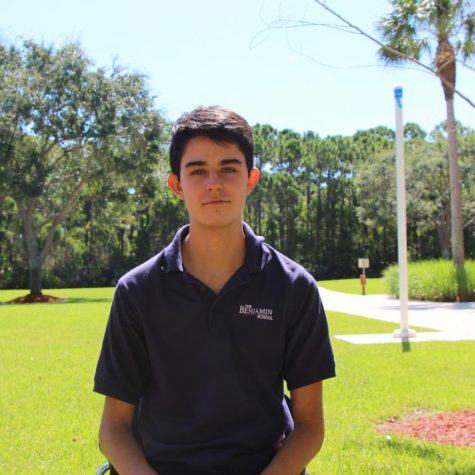 Evan Liberman, Managing Editor
Evan is a senior and in his third year at The Pharcyde. He serves as Managing Editor of the newspaper and is President of the affiliated writing club....