Ms. Schuler Takes Up the Baton as New US Maestro
As the Class of 2022 graduated from the Upper School in May, Lower School teacher Ms. Kirkland Schuler graduated to the Grandiflora campus, joining the Upper School family as their new music director.
As a child, Ms. Kirkland Schuler fell in love with watching musicals with her grandmother. From Singin' in the Rain to The Sound of Music, musicals encouraged her to follow a pathway of music throughout the entirety of her life.
Early in elementary school, she joined her school's choir, started performing in the school musicals, and began taking piano lessons. In high school, she started her own private piano studio to teach younger students. In college at the University of Alabama, she majored in vocal performance and studied various musical topics ranging from conducting to music history to music theory.
After Dr. Nicholas Lockey left Benjamin toward the end of the last school year, Ms. Schuler was the school's in-home replacement. Initially at the Lower School, Ms. Schuler quickly worked her way up the Benjamin ladder to become the Upper School music teacher.
She first started work at Benjamin in the fall of 2020, as she worked in the ACE program, the Lower School's aftercare program. Then, for the 2020-21 school year, she was an associate science and social studies teacher for 1st and 2nd grade.
The move to the Upper School towards the end of the 2021-22 school year was not Ms. Schuler's first exposure to the campus on Grandiflora Road, however. She worked with the drama club for the entirety of the year, as she was Assistant Director of All My Sons and the Music Director for The 25th Annual Putnam County Spelling Bee, the club's two productions of last school year. Additionally, she co-directed a number in last year's Variety Show alongside Performing Arts Department Chair Sra. Sara Salivar.
Ms. Schuler's prior familiarity with the Upper School is part of what made the decision to uplift her from the Lower School so easy. Head of the Upper School Mr. Fletcher Carr referred to Ms. Schuler as a "known entity" for the School. In addition, her fellow teachers also saw her as an excellent replacement for Dr. Lockey.
"She was certainly vetted by the other members of the music department who said, 'yeah, no, there's no question.' In this case, given what we were looking for, this was a great fit," Mr. Carr said.
Ms. Schuler also felt the support of her colleagues in the transition to the Upper School — from both campuses. The power and familial aspect of the Benjamin community is something that she truly saw come to fruition.
"The whole process and how I was treated during it reminded me of how our school has the ability and heart to operate like a family," she said.
And while Ms. Schuler only has spent a short amount of time at the Upper School, her impact has already been felt on students. Senior Owen Nutter noted how she has already helped the band sound better.
The arrival to the Upper School brings Ms. Schuler full circle. As a high school student, she had the opportunity to teach younger students, and now, she will be teaching high schoolers. Teaching students of this age is something that excites her.
"I've long-held this theory that high school artists are in the perfect sweet spot to have moving, engaging, and fun musical experiences," she said. "At this age, you are truly getting good at your art, and you're still willing to have fun and let loose. High school students have that spark, that perfect mix of creativity, talent, and joy that I can't wait to engage with every day."
Ms. Schuler will teach various courses, including — but not limited to — AP Music Theory and Concert Band. While her time away from the musical world was valuable, exposing her to a world of other education that she had not been in prior and teaching her how to connect with others in a differnt way, this return to the realm of music is something that Ms. Schuler has long awaited, and it is an opportunity that she cherishes. And while her passion for music began with her grandmother, it continues at Benjamin for the 2022-23 school year and beyond.
"It is an incredible homecoming to come back to teaching music," Ms. Schuler said. "It was that feeling of puzzle pieces clicking into place or coming up for air after swimming underwater. Coming back to music was one of those rare moments in life where you think, this is exactly where I'm supposed to be."
Leave a Comment
About the Contributor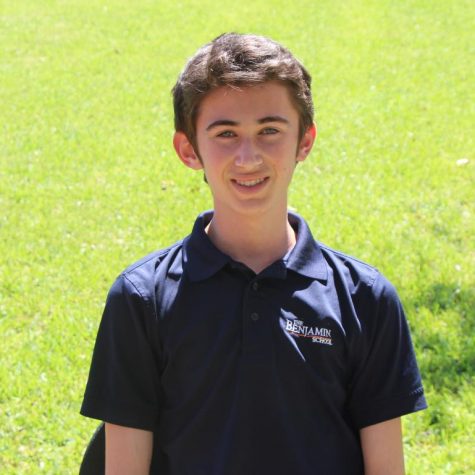 Charlie Spungin, Editor-in-Chief
Charlie Spungin is a senior and has been a member of The Pharcyde for four years. He is the Editor-in-Chief and formerly the Copy and Sports Editor....