Seniors Celebrated with Clap-In as School Year Begins
An annual tradition, Upper School students, faculty, and staff gathered in the Healey gym on the first day of school to clap in members of the senior class as well as to review some key goals for the new year.
"The seniors are now the seniority of the student body and recognizing them first is a good way to start the year and I hope it's a realization that they are now the leaders of the school. All of the freshmen can see who the seniors are and start that relationship off on the right foot," said Dean of Students Mr. Kevin Jacobsen.
The 109 members of the Class of 2023 overwhelmingly said that they realize that they are now the leaders of the campus.
"I was waiting for the point where it would finally set in that I was a senior, and I believe the clap in did that for me. I think it made me notice that I am setting an example for the underclassmen," said Senior Gavin Adeylotte.
Students and teachers alike both value the tradition of the seniors being clapped in.
"I think it is very important to gather the whole school on the first day and clap in the seniors, which is a tradition I love," said math teacher Mrs. Carol McGrath.
This assembly also featured Head of School Mr. Carr and Mr. Jacobsen who addressed the student body on the value of being a Benjamin Buccaneer. In addition, Mr. Carr detailed that the student body is now the largest it's ever been at the Upper School with 473 total students, while Mr. Jacobsen outlined new and existing policies such as the dress code.
Mr. Carr emphasized the importance of recreating community after two very disjointed years with Covid, noting that this was the first time the Upper School was able to do the traditional gym clap-in since 2019. He noted, too, that the school's success was due, primarily, to the strong bonds of community that are built here among all members.
"We gather the school as a whole on the first day to send the message that we are community first and the assembly enables us to start the year together. It also gives a chance to give the guidelines on what the students can expect for appearance, dress code, and protocols," said Jacobsen.
Overall, the first day assembly started the upper school off on the right foot as everything seems to be going smoothly so far.
Leave a Comment
About the Contributor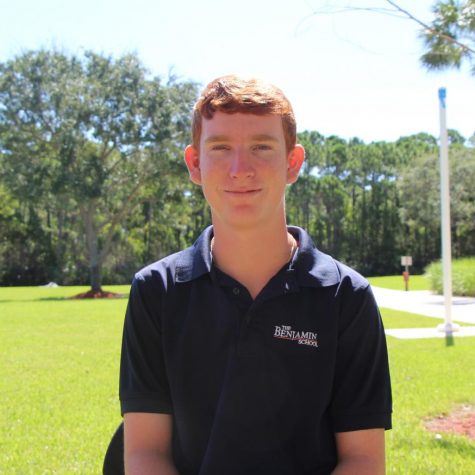 Matt Marasco, Sports Editor
Matthew Marasco, a staff writer for The Pharcyde. Now in his second year of The Pharcyde as a sophomore has attended Benjamin since Kindergarten. He likes...