The Key to a College Commitment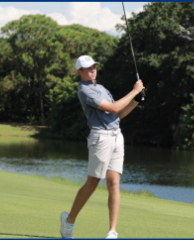 Senior James Key, a dedicated and talented golfer, has been playing golf since a very young age. Growing up in a golfing community with all of the resources necessary to play was helpful in encouraging Key to begin playing in the first place. Additionally, his father was influential in helping Key begin his golfing career.
"I started playing golf when I was 12. It was very convenient for me because I live at a country club with two different golf courses. I also grew up in a household where my father is an avid golfer," said Key.
Though Key is now skilled at golf and enjoys playing, he didn't always. However, when he started putting in the time and effort to improve, he grew to like the sport. Playing with family members and friends also helped in developing his love for golf.
"I never really enjoyed it until I was a teenager and then I started to devote my time into the sport. [Currently] I enjoy playing the game with my father who I have always looked up to and with my friends," said Key.
To Key, golf is more than just athletics and entertainment. It serves as setting a goal and achieving it, an essential life skill, as well as forming or strengthening connections with others. "I think it is a great sport because you can play it throughout your whole life and build connections with other people. I do also enjoy playing competitive golf because I love to compete and work for something to achieve," said Key.
Since he first began playing, he has greatly improved and achieved many impressive achievements. One such accomplishment includes qualifying for the US Junior Championship. This competition is one of fourteen national golf tournaments which are organized by the United States Golf Association. It was established in 1948, and is now available to golfers under the age of nineteen.
"I feel my biggest accomplishment thus far in my golfing career is qualifying for the biggest junior golf tournament in the country, The US Junior Championship. Thousands of juniors try to qualify every year, but only 280 kids make it to the actual tournament. I was lucky enough to make the qualifier and play in the prestigious tournament in Pinehurst, NC," said Key.
However, not all of Key's achievements are directly related to golf. He recently was accepted into Bucknell University, a private Liberal Arts college in Pennsylvania. Bucknell is a highly selective school, and is ranked #38 in Liberal Arts colleges nationwide. Key thinks that this college will provide him with plentiful opportunities in both his academics and golf.
"I recently committed to Bucknell University in Lewisburg, Pennsylvania. I chose Bucknell because of the combination of athletics and academics along with a great group of teammates and coaches. I also think the golf courses up north suit my game much better than typical Florida golf courses."
Key has a promising future in sports and education. His talent in golf will surely take him to the next level in his college career.